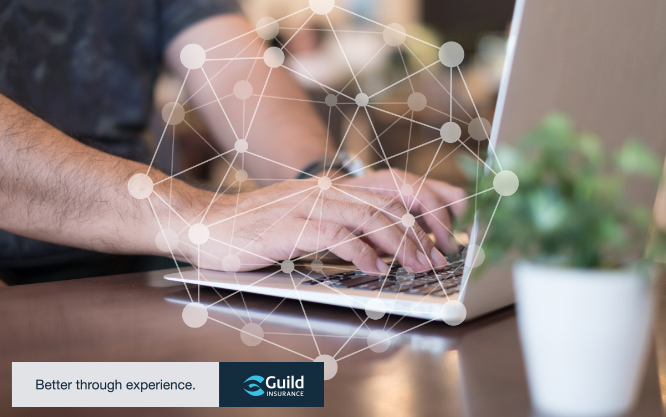 With so many competing issues to consider in business, it's tempting to dismiss the threat of cyber security. After all, surely those with malicious intent would rather target big businesses, not physiotherapists? Unfortunately, that's not always the case, partly because small business can be more likely to have inadequate security and therefore be soft targets for online offenders.
So how can you protect your practice from online threats? Guild Insurance shares 4 top tips to help you protect your physiotherapy practice online.
Invest in reputable software
To set a good foundation for cyber security, choosing reputable cyber security software like firewall, antivirus and antispyware is key. Enlisting the help of a data security expert to help guide you is beneficial if unsure about where to start and which systems will be best suited to your practice.
Develop an IT policy and Incident Response Plan
It's important to develop a strong IT Policy to ensure all staff understand their roles in helping to limit cyber risks to the business and to maintain best practise. It's equally important to have an incident response plan to help minimise the damage as quickly as possible if your business does suffer from a cyberattack.
Stay up to date with cyber security
The STAY SMART ONLINE website is an initiative by the Australian Government that provides free advice on how to protect yourself and your business online. You can subscribe to the 'alert service' email and access self-assessment tools and practical tips to help you ensure you are always up-to-date with the latest news about online threats and how to respond.
www.staysmartonline.gov.au
Consider cyber insurance
Cyber insurance is a product that can assist businesses that suffer a cyber-attack. The product can help protect against a range of information technology risks like an IT system breach from hacking or malware, third-party claims and the costs involved with responding to an attack.
The Guild Cyber Insurance product exists to protect businesses like yours now and into the future. The product includes cover for a range of online threats, business interruption, third-party claims and cyber event response costs.
For more risk resources, visit Guild Insurance
or to find out how Guild can help protect your business, get a quote online today.
Disclaimer
The Guild Insurance Cyber Event Protection product is underwritten by Emergence Insurance Pty Ltd ABN 46 133 037 153 AFSL 329 634. Emergence acts as an agent to issue policies on behalf of certain underwriters at Lloyd's. Guild Insurance Limited has an arrangement with Emergence to distribute the Cyber Event Protection product issued by Emergence and branded Guild Insurance. For the Cyber Event Protection product Guild Insurance may be paid a commission if you purchase, vary or renew general insurance products we arrange for you. No commission is paid if you do not buy the recommended product. The commissions are calculated as a percentage of the base insurance premium (excluding any government taxes and charges). For more information contact Guild Insurance on 1800 810 213. GLD4510 Ultimate Physio Blog Cyber Insurance 04/2018.