TURNING PHYSIOS INTO LEADERS
Imagine living in a world where every Physio clinic had a leader at the helm and 100% of the population use Physio when they have pain or injury? When someone is in pain they call a Physio before they do anything else – do you think this would be life changing for you, your clinic, your clients and your team?
As a profession we can achieve this through helping physios and clinic owners in private practice to have massive influence in your clinics, team, communities and society.
So what do we do?
At the Ultimate Physio we help Private Practice Physios to become the best Physio you can be by becoming the best person you can be through unique leadership and personal development training. As Physios we love learning but for years we have neglected learning about our most important asset – ourselves. This changes here and now.
We are transforming Physios into leaders. Think of us as the "Tony Robbins of Physio".
So why do we do this?
Helping Physios be the best they can be helps you value yourself and consequently become more valued by your clients, team, business and community, and live the best lives possible. As Physios we tend to undervalue ourselves and this can lead to under-confidence, lack of career satisfaction, not getting the best results in our practice and not making the living we deserve. Leadership and personal development training helps you to find out who you are and what you stand for, understand and accept your weaknesses, and learn how to plan your future life to ensure success. I have witnessed first hand the changes in myself and my team using these strategies, and I would like to introduce them to you in the hope you have the success I have had both personally and with my team.
For Physios
Most physios in private practice do a great job with their patients, but have no idea who you are, what you stand for, and what you want. The Ultimate Physio helps you learn and grow as a person, to not only succeed in your job, but to get more out of life.
For Clinic Owners
As a clinic owner you generally wear too many hats, treat way to many patients, and spend all day fighting fires. It is really frustrating when you lose key physios in your clinic. Learn how to be a better leader and keep your key team members happy and performing well with The Ultimate Physio's books,courses, products and programmes.
I am a clinic owner just like you, and nearly suffered inevitable burnout some years back. On my busiest week I saw 134 patients myself! I now run a practice where I see patients for 15-20 hours per week, and spend the rest of the week working on the business and mentoring my awesome team. My clinic is busier and more profitable than ever before, and I love the environment we have created and the full trust I have in my team. Coming to work every day is a pleasure.
The leadership and team mentoring strategies that I have implemented with clinic owners Australia wide has had the effect of doubling a private practice physio's patient visit average (PVA) which can add more than $100 000 to the annual revenue of an average physio in private practice. What would an extra $100 000 PER FULL TIME PHYSIO in your clinic do to your daily life? Would you have to work as many hours and treat as many patients as you are currently doing?
I assure you that with learning and implementing the right strategies in your practice based around helping your team achieve their goals that you can have a profitable clinic and a balanced life as well!
15 years as a business owner & mentor

Nick has owned his clinic since 2003. Find out how he went from a burnt out clinic owner who one week saw 134 patients, and had key physios leaving his clinic every 1-2 years, to being able to halve his clinical caseload in the past 2 years while increasing the profits in his clinic. He has built a high performing team who love coming to work each day. Find out how to do the same for your clinic.

Access to our VIP community to share your own skills, knowledge & ideas

Gain access to our closed mastermind group where as physios and clinic owners we solve the big problems in our clinics and in our lives. You will achieve significant breakthroughs in this group and can learn just as much from other physios and clinic owners as you will learn from Nick.

Proven systems & processes to make your life easier

Nick will teach you the proven systems that took him from a burnt out clinic owner seeing too many patients to having a high performing team of A players. If you are a clinic owner seeing way too many patients in your clinic these systems will set you free and give you your life back.
Select your choice below for our
Train the Ultimate Physio
Physio clinic owners- sick of losing key team members? Learn how to train your team to get your clinic running smoothly with a happy team who love coming to work every day!
This course is most suitable for physio clinic owners who:
have a solid, well established clinic
are snowed under treating too many clients
have had physios leave your clinic, or have underperforming staff
have done some basic business education, with limited results
Are you a physio in private practice and enjoy treating clients, but aspire to greater things and love learning? To further your career you need to learn how to be a leader, this will make you a highly valued and respected physio in your clinical environment.
This course is most suited to physios who:
have worked in private practice at least 6 months
have got the basics of treating patients downpat
value learning and personal growth
aspire to leadership roles, career progression and potentially future clinic ownership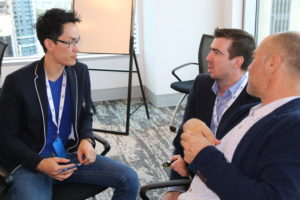 Build the Ultimate Physio Clinic
Ultimate Physio's flagship 9 month programme. 5 sets of live 2 day workshops, blockbuster webinars, access to thousands of documents, videos and spreadsheets, and a community of high performing physio clinic owners only. This programme has stringent entry criteria and is requires you to apply through a process designed to ensure you and your clinic are the right fit for the material you will be exposed to. To enquire please contact Nick Schuster through his personal email.
I highly recommend Nick - working with him has started a journey I thought I'd already travelled - as an experienced business owner I wasn't sure what I hadn't already done to grow a successful business but I have remained vulnerable due to not investing time and energy on a different level and from a different perspective in and on my people - what Nick shares with business owners as a coach and mentor is gold - a great investment for anyone wanting to gain some freedom and work/life balance and still have a profitable business with a stable team !

JC


Physio Clinic Owner, Queensland